→ SITE - SPECIFIC
PERMANENT INSTALLATIONS
Piotr Uklański
Real Nazis, 2017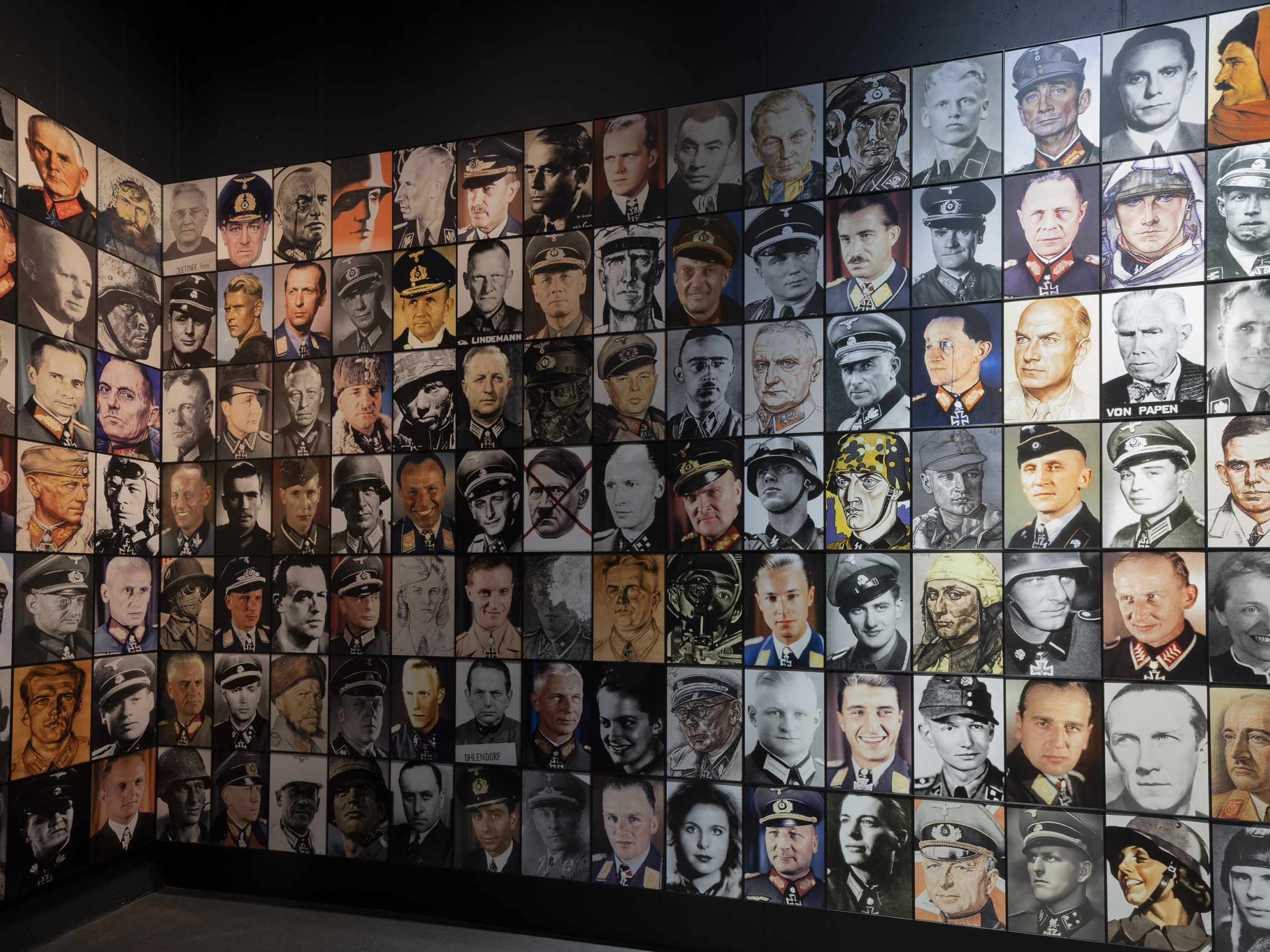 'The notorious Nazi Hanns Johst once said that, whenever he heard the word 'culture', he reached for his gun. Every time I hear the word 'Nazi', I think of Stefan Grzelak, imprisoned in SS-Arbeitslager Friedrichshafen. He was my grandfather,' stated Piotr Uklański, commenting on Real Nazis (2017): the series of 203 photographic prints, completed in 2017, currently on display on two walls of a custom-built room in MUZEUM SUSCH.
In 1998, Uklański created The Nazis, a thematic visually akin assortment of 164 photographs portraying actors – from Marlon Brando and Michael Caine to Clint Eastwood, Anthony Hopkins and Donald Pleasence – who appeared as Nazis in a variety of cinematic productions. Presented subsequently in London, Warsaw and New York – where it was included in the 2002 Jewish Museum exhibition 'Mirroring Evil' – The Nazis stirred controversy and debate concerning history, its mediated representation as well as, inevitably, the imagery of the Nazi regime: the way cruelty, authority, and subjection – including fetishistic and homoerotic constituents –, became fused in the Wehrmacht and SS uniforms. 'It's about the power of costumes and the costumes of power,' remarked Uklański.
Two decades later, the artist completed Real Nazis: a portrait gallery of more than 200 individuals who fought on the German side during World War II. Conceived as Uklański's contribution to documenta 14, where it was shown in Kassel's Neue Galerie, adjacent to the room containing a permanent display of the work of Joseph Beuys, whose image is included in the series. Yet, Uklański does not seek to dispel the myth of this key figure in post-war European art, who drew on his experience of serving in the Luftwaffe as impetus for his future artistic practice, nor to probe the uncanny resemblance of these actual Nazis' facial expressions to those of the actors from his earlier series. Rather, this project was the artist's response to the rising popularity of far-right movements across Europe, against the backdrop of a move to prohibit – , officially or otherwise – the dissemination of images depicting the individuals involved in the atrocities. Yet, the overwhelming presence of those 203 faces in Real Nazis highlights to which extent the modern-day visual damnatio memoriae - the erasure of people from the collective memory by abolishing their representations – has caused their true likenesses to be supplanted by fictionalised ones. These fictional characters, invented within (and powerfully disseminated by) the sphere of popular culture, were documented in The Nazis. Uklański's 'wall of shame' also invites a darker question: is it possible to infer a person's character from their appearance? A question whose physiognomical foundations were discredited by the very workings of the Nazi regime itself.
Untitled (Story of the Eye), 2013
Located next to the entrance is Uklański's Untitled (Story of the Eye) (2013): a large-scale sculpture made from dyed rope, fibre, macramé and embroidery in the shape of an eye. While clearly referencing Georges Bataille's L'histoire de l'oeil (Story of the Eye, 1928) – a self-psychoanalytical novella heavy with explicit descriptions – Uklański is also making a statement in this work with his choice of medium: historically, textiles have been associated with women artists – particularly in 1970s Communist Poland – and, more broadly, with the feminine sphere pertaining to crafts frequently undertaken by women. Untitled (Story of the Eye) is one of a series of fibre and textile artworks that Uklański has produced, whose loose, soft structures echo organic forms or, more directly, human bodily organs, while revisiting and reinterpreting the techniques of artists such as Magdalena Abakanowicz.
But the eye and by implication the act of looking is integral to art and to our comprehension of its history. Here, as the eerie eye ball hovers above the floor, its gaze fixed into the index of names of those depicted in Real Nazis, two of Uklański's interpretations of historical order meet.



↘ QUOTES
↘ VIDEOS
↘ MUZEUM SUSCH APP