17 – 31/07/2023

QUARTO / BRA/SE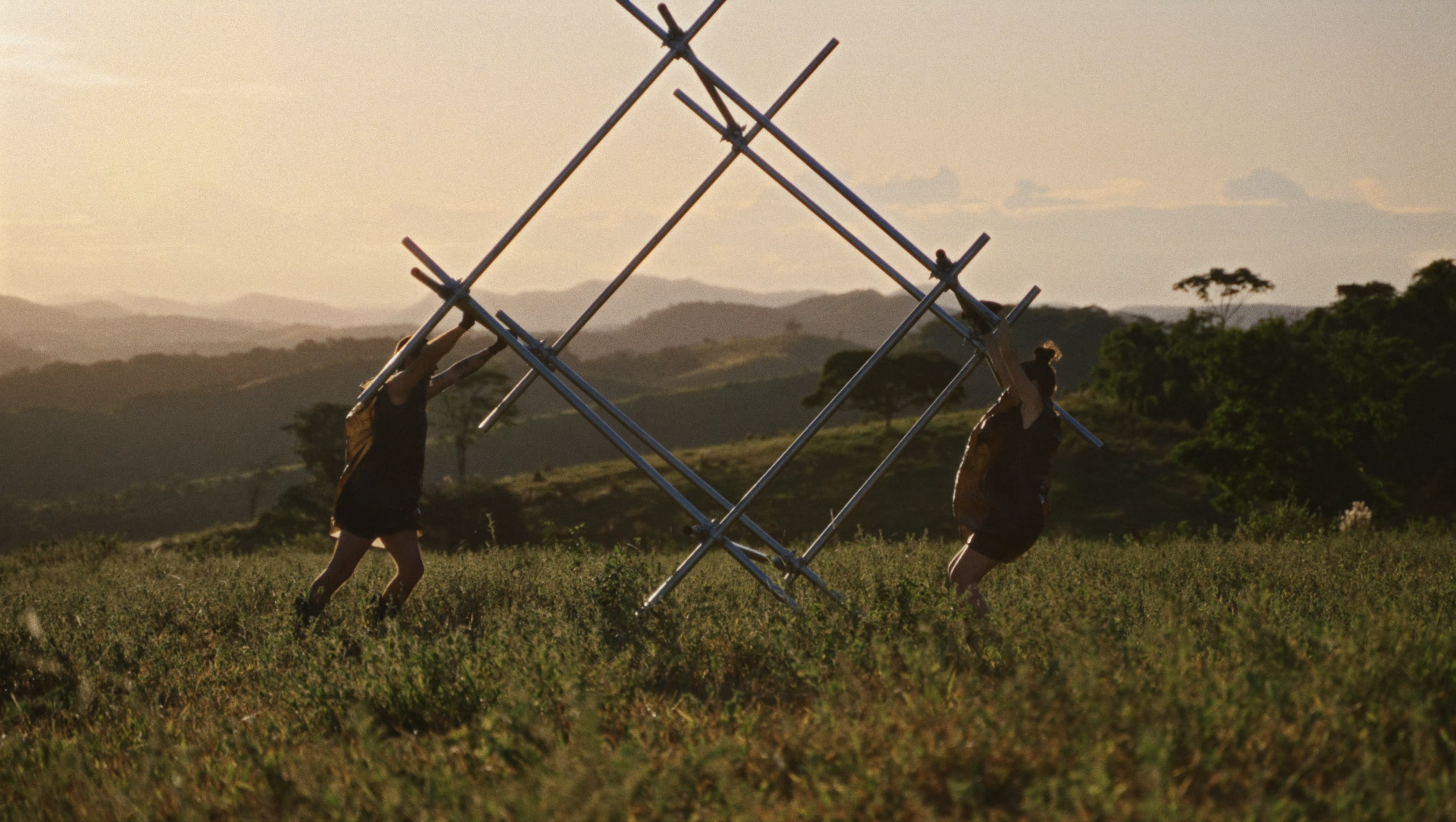 Acziun Susch is happy to welcome for residency QUARTO / Anna Mesqita & Leandro Zappala - Brasilian artists based in Stockholm.
During a two week stay in Muzeum Susch they will create a new video recording in their series Moving Landscapes – a multimedia installation and outdoor performance. After versions captured in Brasil and Egypt, the work will now find its Alpine iteration. The outcome of the residency and performance is planned to be shared with an audience in 2024.
Moving Landscapes is a durational performance work that takes place both indoors and outdoors. In a gallery, venue, museum or warehouse space where the performance work will be presented together with the video installation. Outdoors it will be a site-specific performance, where two bodies are moving a huge metal cube, in nature or an urban environment near the venue. This physical structure is purposefully simple. It's an empty volume, a three-dimensional cube made of metal pipes measuring 3mx3m. Observed on its own, in its basic constructivist simplicity, this support structure exists as a representation of the porous boundaries between internal and external, private and public. It is an ambiguous skeleton that maintains the void, inside and around of which we can dwell. Our interest in the CUBE as a performative tool unfolds along two complementary lines of research that tackle its inherent paradox: concrete materiality of its skeletal construction and immaterial voidness, the emptiness of it which is only suggesting the porous reality of an internal/external space. The concrete construction of the cube is of interest to us both in terms of the work (construction as a verb) and physical presence (construction as a noun). By treating the cube as an ongoing work – of making it, transporting it, and inhabiting it – we are continuing the performative procedure that we developed previously in relation to the rope. The materiality of the cube which is in the ongoing process of dis-assembling through the activity of the bodies that are engaging with it generates shared choreographies of behavior and collaboration that affect and shape the spacetime of the performance.
QUARTO is an artist duo founded in 2003 by Anna Mesquita and Leandro Zappala. Based in Stockholm they live between Brazil and Sweden collaborating with other artists, researchers, academics and institutions devoted to research and development in the art field. This permanent dialogue in-between two distinct countries force QUARTO to deal with different working conditions, politics, economies, cultures, infrastructure etc. placing them in constant challenges and impermanence in a transient and nomadic lifestyle. They invest in long-term research within interdisciplinary art, deeply rooted in the interaction between theory and practice. Engaged primarily with philosophical questions regarding power relations between body & object, exploring the limits of the body, they seek to generate thought and subjectivity through radical, visual and physical experiences. Confronted with the complexities of the world today they are working internationally, searching for new ways to make the necessary changes to construct a more sustainable future through artistic interventions.

QUARTO has for two decades been developing bodies of work through four series; WIP, BEAUTY, ROPE and currently CUBE. Their work has been presented in over 20 countries in venues, museums, galleries and festivals such as; Uferstudios (Berlin), Tanzhaus NRW (Düsseldorf), Museum of Pop Art Ludwig Forum (Aachen), BIPOD Festival – Sursock Museum of Modern Art (Beirut), Frascatti Theater (Amsterdam), Dansehallerne (Copenhagen), Inkonst (Malmö), Moderna Museet (Stockholm), MDT (Stockholm), Serralves Museum of Contemporary Art (Porto), Solianka State Gallery (Moscow), Fierce Festival (Birmingham), Donnau Festival (Krems), Kondenz Festival (Belgrade), FIDCU – International Dance Festival of Uruguay (Montevideo), NIDO (Rivera), Panorama International Dance Festival (Rio de Janeiro), Ifa Gallery (Berlin), NAVE (Santiago de Chile), Art Stations Foundation – Malta Festival (Poznan), Medelhavsmuseet (Stockholm), La Mama (New York), Fest en Fest Festival (London/ Cambridge) & Breaking Walls Festival (Cairo).

2018 QUARTO received the Birgit Cullberg prize.