→ MUZEUM
SUSCH
Emma Kunz. Visionary Drawings
Curated by
Hans Ulrich Obrist & Melissa Blanchflower
27 July – 24 November 2019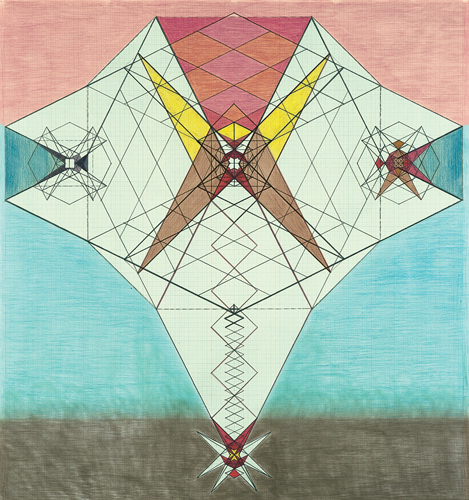 From 1938 the Swiss healer and researcher Emma Kunz (1892 – 1963) created several hundred drawings in which the universal powers of nature, channelled by using a pendulum and realised in graphite and coloured pencils on graph paper, formed geometrical compositions. She conceived these compositions as answers to the questions she posed the pendulum, which ranged from the intimate and personal, to current political events, and the inner workings of the animate and inanimate natural realms – all of which Kunz believed to be interconnected.
Kunz's works on paper originate from her practice as naturopath; tapping into her gifts for telepathy, prophecy and healing prompted her to explore the underlying principles of the universe. In most cases neither titled nor dated and without written explanations, Kunz's drawings are coded messages addressed to posterity, intended to be read anew. They were, as she predicted, 'meant for the 21st century'.
While Kunz's working methods may seem hermetic and, contrary to what she had hoped, not widely practised, her advice on how to inhabit our environment – including her appreciation of the local, her distrust of monocultures in farming and her holistic approach to medical treatment – is timely with contemporary discussions in medicine, architecture, ecology and climate science.

MUZEUM SUSCH presents this major institutional solo exhibition featuring a large selection of Kunz's spiritual and abstract drawings in a unique setting that is intrinsically connected to nature – the importance of which Kunz frequently emphasised.
Emma Kunz: Visionary Drawings curated by Hans Ulrich Obrist and Melissa Blanchflower is organised by the Serpentine Galleries in collaboration with Muzeum Susch where it is co-curatedby Krzysztof Kościuczuk.
The exhibition is accompanied by a publication under the same title, co-published by Serpentine Galleries and Muzeum Susch with Koenig Books, that features new texts by Dawn Ades, Bice Curiger, Desmond Morris, Hans Ulrich Obrist, Tabita Rezaire and Ali Smith.



↘ INTRODUCTION
↘ EXHIBITION'S VIEWS