→ ESTATE
Vera Dajht-Kralj
(1928 – 2014)
Zagreb, Croatia
THE ESTATE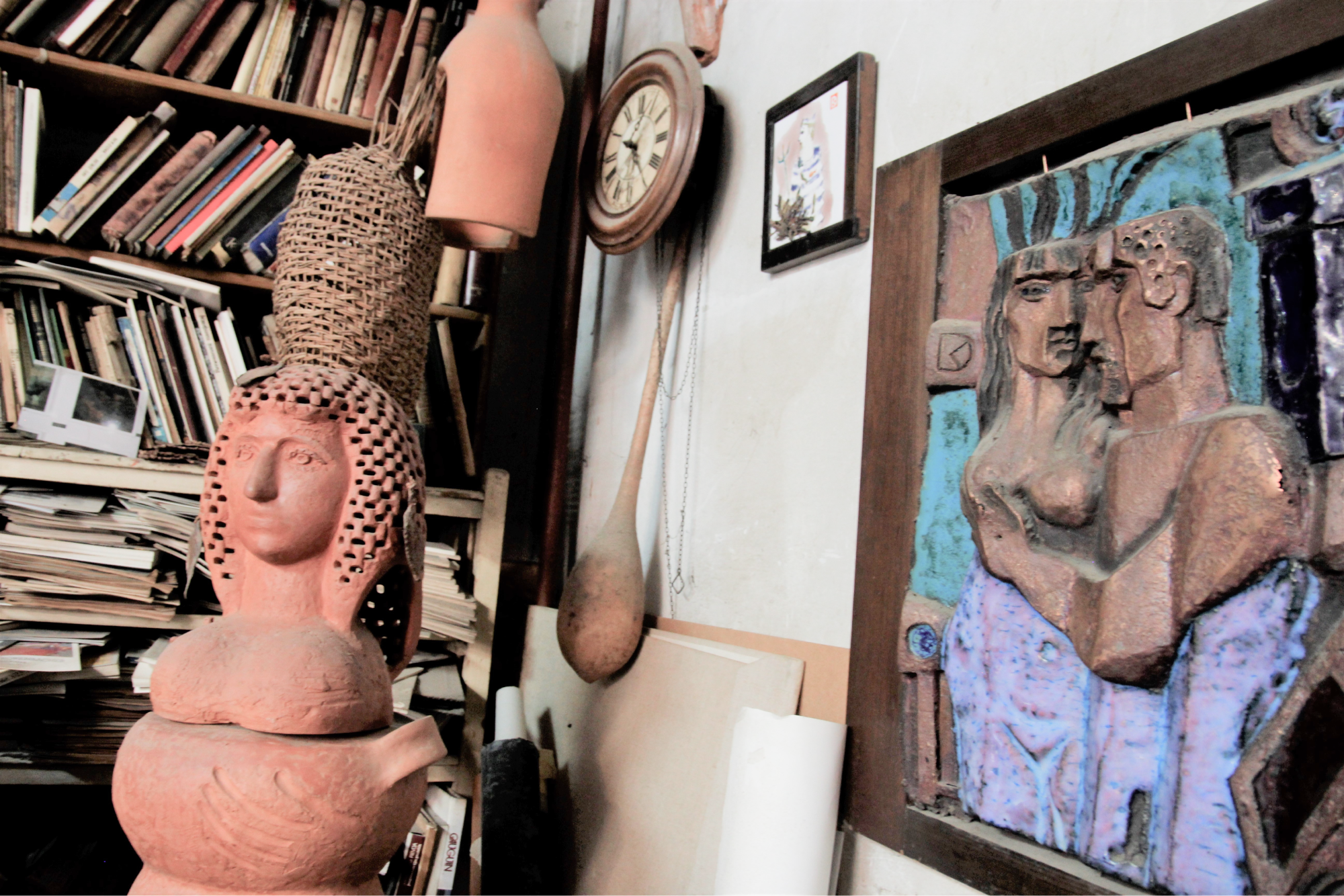 One of the estates of the former Yugoslavia supported by Instituto Susch is the estate of Vera Dajht-Kralj (1928–2014), in Zagreb. The artist worked there from 1956 until the end of her life. She received the space just after her return from Paris, where she studied at the École des Beaux-Arts. Today, the studio still houses many of the artist's works, including sketches, works on paper, monument designs, ceramic and clay sculptures, among them various versions of images of the Witch of Grich. The figure of the witch, a woman who knows more than others and is persecuted for it, was a theme that ran through her work for many years.
Currently, Vera's studio is also the headquarters of the art cooperative Živi Atelje Dajht Kralj (Living Atelier DK). Living Atelier is an independent, interdisciplinary, non-governmental, non-profit organization focused on support and cooperation with artists, inclusion of the public through and into art locally and internationally, and exploration and understanding of otherness. Identity, memory, ecology, equality, community and peace-building are among the themes whose exploration the cooperative encourages through art. It also works on preservation and promotion of the art of academic sculptor Vera Dajht-Kralj, whose collection—her physical and creative heritage—represents the inspiration and the axis around which the atelier's activities revolve.
THE ARTIST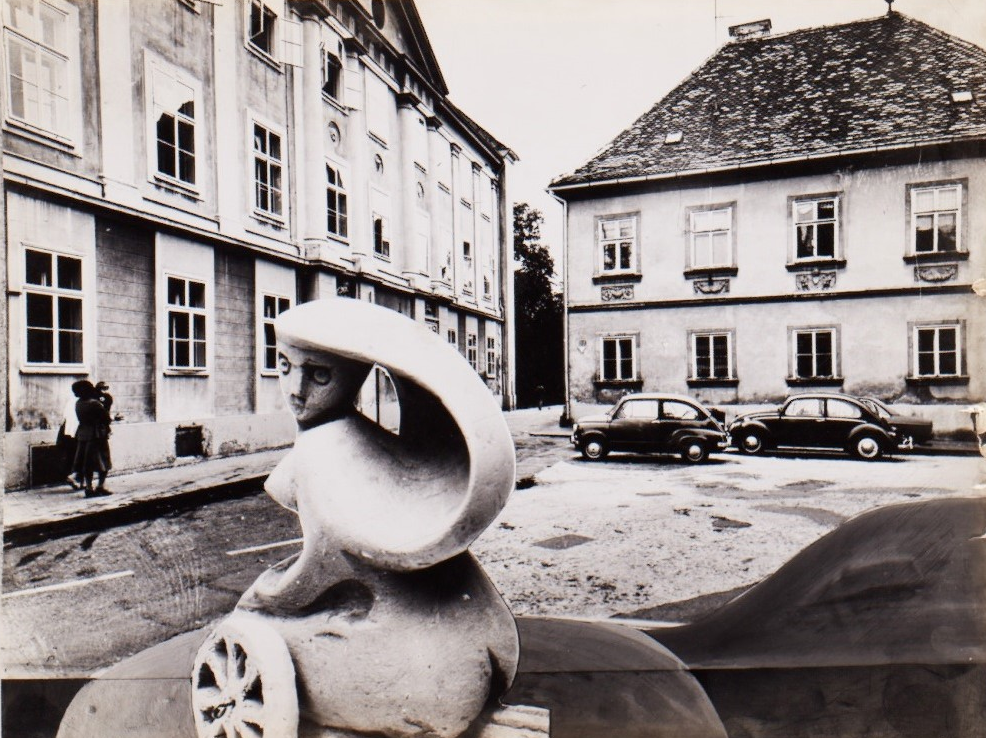 Vera about herself:
I was born on December 11. I don't remember that, of course. Others told me it was a horrible winter. I was born in the sign of Sagittarius, and with it I have quite a bit of hardship. I am a twin, and even inside my mother's womb I was not alone. So it is in life. I love company. As far as I can remember, going back to my childhood, I see and feel clay. Growing up in a brick factory, I look at the machine press spewing out clay roosters for rooftops. My early childhood. Traditional family. Professors come to our house in those days to teach us, Prof. Mima Petrović Stein, Skender Kulenović and Rabbi Dr Ginsberg. Discussions lead from Marxism to the Talmud. As my father is musically gifted, we have access to Schubert, Verdi, and Vienna operettas. The old record player with the big horn loudspeaker turns and turns. I visited an exhibition of Italian portraiture through the ages when I was 10 years old. Bernini and Michelangelo … Meštrović.
In March 1942 we ran away from my birth home, and I have only one wish: to transform into a little mouse so that human suffering would miss me.
Camp Kraljevica and Rab. I take drawing and painting lessons with a woman painter from Vienna and with the painter Ivo Rein. Diarrhoea, cold and hunger. Vistas of Bakar bay. Italy capitulates. We arrive at liberated territory via Senj and the Vratnik pass. Cold, hunger and fear. I write slogans. The river Korana canyon with Rembrandtesque water mills. 1945 is the arrival to the destroyed city of Zadar. High school at Prva Partizanska gimnazija. Digging through the ruins. Venetian mirrors, epoch furniture, libraries.
End of the war. Zadar glitters with lights as a jewel—celestial happiness.
Zagreb—I want to compensate for it all.
Academy—Kršinić. In the atelier I work with Beri Brajković, Branko Vlahović, and an amazing model, Branko Rakoci. We work at a crazy pace, jealous of feedback and time that passes. Due to different opinions, there are even fistfights. I adore Kršinić, Đuro Tiljak and Krsto Hegedušić. I believe in them.
I enlist in a masterclass with Vanja Radauš, at his own initiative, but at the same time I win a scholarship for Paris. In talks with Prof. Radauš, he is not very thrilled, but he understands that it is an opportunity not to be missed. We didn't meet again until shortly before his death. He wanted to give me a drawing of his as a present, which I unfortunately did not take. That same year I ended up in Florence. The whole year I spent on a diploma journey with Ljubo Babić. To have such an erudite person as a guide we can call real luck. That is the end of the summer. Autumn leads me to Paris, and I start at the Beaux-Arts with Prof. Yencesse. An international crowd at his atelier. Just across the road is the Louvre. My first discoveries of love. At the Grande Chaumière (1952) I meet Osip Zadkin and some of his students.
1956. Zagreb. I found my atelier, which I have renovated until today. It is my space, and here people come from diverse profiles I love.
Study trips: Italy, France, Switzerland. Commissions at the atelier. Exhibitions, conflicts, satisfactions. I always think of polychromy in a variety of techniques. The birth of my son and Grožnjan. The midlife era creeps into my creases. I find a method of casting copper. Alchemy is captivating. Symposium in Prilep. The best painting. I start to polychrome copper surfaces. The grand heavenly ceiling rests in time, while time makes a selection.
Zagreb, 3 August 1987
Vera Dajht-Kralj
This text was published in Beyond Visible: The Public Sculpture of Vera Dajht-Kralj, ed. Ana Kršinić-Lozica (Zagreb 2018).
Vera Dajht-Kralj (née Deucht, 11 December 1928 – 16 May 2014) was a Croatian sculptor. Dajht-Kralj was born to a Jewish family in Zagreb. Her paternal great-grandparents had moved to Croatia from Hungary two centuries before her birth. She graduated from the Academy of Fine Arts, University of Zagreb, in 1952, where she also completed postgraduate studies under the mentorship of sculptors Frano Kršinić and Antun Augustinčić. In 1953, she finished her postgraduate education at Beaux-Arts de Paris under Prof. Hubert Yencesse.
In 1952 she participated in her first group exhibition at the Musée Municipal d'Art Moderne in Paris, and had her first solo exhibition in Zagreb in 1960. She was a member of the Croatian Association of Artists from 1955. In the mid-1950s, she started making public monuments, including her first large-scale monument in Oborovo. After that, she made about twenty open-air sculptures, busts, reliefs and monuments, as well as over thirty competition entries for public sculptures, mainly in Croatia but also in Macedonia, Slovenia, Serbia, Canada, the Democratic Republic of the Congo, and Switzerland. In 1991, her sculpture Prozor (Window) was displayed on Tkalčićeva Street in Zagreb. Over the course of her career, she participated in more than seventy solo and group exhibitions at home and abroad (Austria, Egypt, France, Germany, Greece, Italy, South Africa, Switzerland). She shaped her chamber sculptures in terracotta, bronze, and enamel, adapting the electroplating technique to her needs. In all her works, texture and colour play a prominent role. She also sculpted unique jewellery and made recognizable drawings. In 2003, the Glyptotheque of the Croatian Academy of Sciences and Arts in Zagreb devoted a retrospective exhibition to her oeuvre.
Dajht-Kralj received numerous awards, including a diploma from the Yugoslav Portrait Triennale in Tuzla (1971), the Premio originalitá e validitá in Ferrara, and the silver medal for sculpture in Naples (both in 1977), the Tourist Association of the City of Zagreb Award (1987), and an honorary diploma at the 4th World Triennial of Small Ceramics in Zagreb (1993). She was also recognized for some of her unrealized competition entries for monuments (Student's Tomb in the Memorial Park in Kragujevac in 1961, Women's Memorial Park in Skopje in 1963, Monument to the February Victims of Fascism in 1964 and Monument to August Cesarec in 1973 in Zagreb) and her work in art education (City of Zagreb plaque, 1966, and Memorial diploma of the Zagreb City Assembly, 1968).



↘ Vera Dajht-Kralj: Estate
↘ Vera Dajht-Kralj: Works